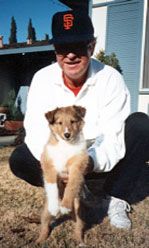 In December of 1989 my husband Dennis presented me with an 8-week old Sheltie puppy for our 25th Wedding Anniversary. Little did he realize then that he should have bought me the diamond ring instead!     

The moment that Sheltie puppy, tagged "Dusty", walked into our home really marked the birth of Hillstone Shelties, since soon it became apparent that Dennis and I had fallen head over heels with the "Toonie dog"!

We also learned something else... Shelties are like potato chips - you just can't stop with ONE!

In February of 1990, we purchased an 11-month old tricolor male from Diana Moreland of Dear Shelties. This handsome young man ("Blazer") would go on later to become our very first conformation champion!

But that's getting ahead of "the rest of the story" ...
    
Dennis and I began obedience training with both boys and with lots of practice and patience, Dusty and Blazer both achieved their CD (Companion Dog) titles that same year (1991). Then, just for fun, I began showing Blazer in conformation to see what he and I could do in "the other ring".     
     
In June 1991, Linda Churchill of Sandalwood Shelties entrusted us with a 6-month old sable & white male puppy named "Surfer". This 14 1/2 inch ball of fire was a non-stop showman and went on to become our second champion, and Linda became my mentor and friend. I watched and learned, and asked a lot of questions! In April of 1992 I attended my first National with Surfer and Blazer, and placed with both dogs. Not bad for a rookie - I was hooked! And, under Linda's watchful eye, in the fall of 1992 I bred my first Sheltie litter under the Hillstone name.

The next several years were spent finishing Blazer (CH. Dear Power Play, CD), Surfer (CH. Hillstone's California Sun) and showing other Hillstone progeny. I also finished CH. September Black & Decker for Barbara Linden of September Shelties. This was a particular thrill for me as "Decker" was the first dog I had taken to an AKC championship all by myself from start to finish.

In March 1998, we reached another plateau when I finished our first homebred champion, CH. Hillstone's Basic Black. Owner handled all the way, "Ebony" was sired by our dual titled CH. Dear Power Play, CD.

In June 1998, another champion was added to the list when the handsome "Cody" became CH. Caitlin Laredo. He was previously co-owned with Kathy & Don Coon (Caitlin Shelties), and is the 17th champion for his BISS sire CH. Caitlin's Blaze 'N Chariots, ROM, CC.

Another milestone was the success of the lovely CH. Mindalyn Fond Memories, bred by Cathy Dupree (Mindalyn Shelties). "Julie" finished her championship on Valentine's Day, 1999 with a total of 5 majors and 4 Best of Breeds!

A Y2K addition was CH. Hillstone's Runaway Bride, "Marti". She was a stunning blue merle female who is sired by CH. Montage The Wedding Singer, "Bandy" out of Trevanne's Natasha, "Tasha". "Bandy" was WD/BOW at the 2000 ASSA National in Valley Forge, PA, and "Tasha" is a CH. Homewood Hurricane, "Dane" daughter. "Dane" is a Best in Show winner, a repeat Award of Merit recipient at the National Specialty, and in 2006 went Best of Breed at the ASSA National in Collinsville, IL from the Veterans class.. "Marti's" litter sister, CH. Hillstone's Valley View Chick, "Natalie" was owned and finished by Diane LaClare of Valley View Shelties, Gardnerville, Nevada.

Other additions were CH Hillstone The Wedding Planner, "Keegan", who is Marti's son and close lookalike, and CH. Hillstone Final Cut, "Ryan", a tricolor Tasha son who looks like our heir apparent to Blazer.   

Recent home-bred champions are CH Hillstone I Love Trouble, "Julia" and nephew, CH Hillstone Deep Winter, "Kellan"..  "Julia" was Reserve Winners Bitch from the 9-12 Class at the 2005 National Specialty Show in Collinsville, IL.  After finishing, "Julia" has earned multiple Best of Breeds and Group placements as a "special", #6 All Breed 2008, and  back-to-back Award of Merits at the National Specialty shows in 2007 and 2008.  "Kellan" also finished quickly, following on the heels of his stunning tricolor littermate, CH Hillstone Hallelujah, "Halle".  "Halle" finished with four majors, the final 5-points earned by going WB/BOW at the 2009 ASSA National Specialty in Perry, GA.  
Our latest champion, CH Hillstone Enclave Easy Rider, "Wyatt" finished October 1, 2017 at the Bonanza Kennel Club show in Carson City.....
Our litters have produced many competition dogs as well as loving companions for the growing number of Hillstone friends and family. To meet some of these dogs, and learn of their accomplishments, please visit our Family Album.